Bolex 155 Macrozoom
From Super8wiki
Bolex 155 Macrozoom
Year: 1967-1970
Lens: Bolex zoom 1,9 / 8,5 - 30 mm
Manual Zoom
Aerial Focusing
Macro focusing
Manual / Auto Exposure
Frame rates: 18, 32 + single frame
No sound
Batteries: 4 AA for motor, 2 PX-13 mercury cells for meter
Accessories: single-frame release unit, self timer, Multitrix titles holder and slide copier
Service and parts manual: Bolex 155: Service and parts manual
Prices on eBay:
eBay USA:
eBay Germany:

EUR 6,50 (+ EUR 7,00 shipping) in 11/2006
EUR 27,00 (+ EUR 8,00 shipping) in 02/2007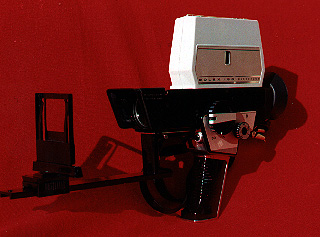 Comments
[
edit
]
Supposed to be the first camera with macro focusing.
NOTE: the exposure is AUTO only, with exposure lock button.
It does not offer single frame without the single-frame release unit module.
Reviews
[
edit
]
eBay Auctions
[
edit
]